AUTISIM CLINIC
LITTLE ANGELS EARLY INTERVENTION CENTRE:-
Little Angels is an early intervention centre for children with developmental delay/mental retardation, especially focusing on children from birth to six years. The centre is located at the Pediatric Department in St.Thomas Hospital, St.Thomas Mount. It is centrally located and can be easily accessed by public transport systems.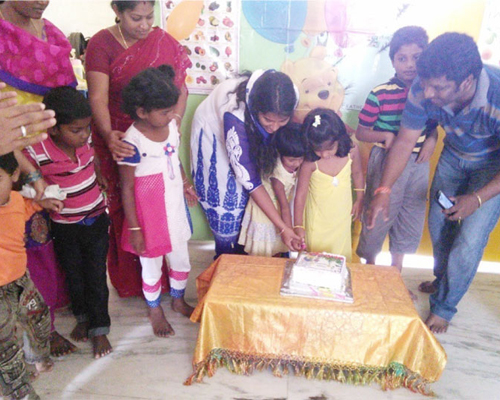 Our Vision is to facilitate a nurturing and supporting environment to integrate these special children into the family and the community.

Our Mission is to reach out to special children and their family from all strata of society.

» To enhance the child's learning potential through a holistic approach.
» Zero Reject Policy – Which means, no child will be turned away, because they are too challenging to handle or because of lack of finances to give the specialized attention the child needs.

Our main Focus is the development of the child in the following skills.


» Cognitive Development (Understanding)
» Language and Communication (Speech and Hearing)
» Motor Development (Movement)
» Self Help Skills
» Social and Emotional Development.

We use the UPANAYAN package, which has been specially developed for systematic early intervention training by teachers / Parents. Parents / Caregivers are encouraged to actively participate in the programme in order to empower them to play a significant role in the child's Development. This Will Enable a Happy Connect in the Child's home Environment. The Child's Progress will be periodically evaluated and documented, based on which new goals will be set.

Our Team:
We have two pediatricians with more than 25 years Experience. One of them is also a child psychiatrist.

» Renowned Special Educators
» Occupational Therapist
» Physiotherapist
» The consultants of St.Thomas Hospital and all its facilities.

Our Mentor:
Madhuram Narayanan centre (MNC). A well Renowed NGO Working in this field for over 25 years.

Our Collaborator:
IRIS (Institute for Remedial Intervention Services) a private resourse center dedicated to promoting the cause of autism and related disabilities.