PHYSIOTHERAPY
Physiotherapist assess, plan and implement rehabilitative programs that improve or restore human motor functions, maximize movement ability, relieve pain syndromes, and treat or prevent physical challenges associated with injuries, diseases and other impairments.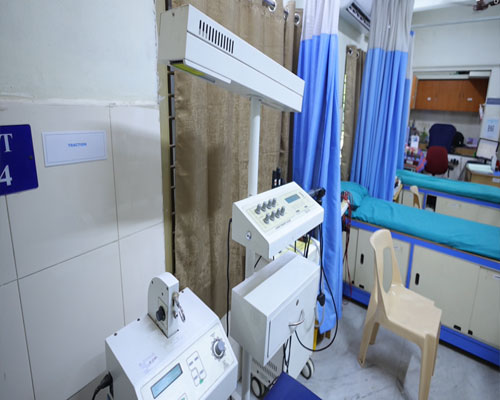 They apply a broad range of physical therapies and techniques such as mobilisation, ultrasound, heating, laser and other techniques. They may develop and implement programs for screening and prevention of common physical ailments and disorders"


PHYSIOTHERAPY & REHABILITATION:
The Physiotherapy Department at St. Thomas Hospital has fully trained and experienced staffs who offer a wide range of services and methods of treatment to people of all ages with general aches and pains, as well as those recovering from orthopaedic surgery.
Our Department is committed to providing a high quality Physiotherapy service to all the clients. Our facility incorporates up to date methods and state of the art modalities for treating all conditions. Our department goal is to synthesis Orthopedic, Neurology, Cardiopulmonary and Critical care facilities to take the patients on a path of quick recovery and health.

What should you expect from us?
Treatment Packages and Programs are individually tailored for the following conditions
Orthopaedic conditions:
* Joint pains (ex: neck, back, shoulder, knee, etc)
* Muscle spasm
* Ligament strain and tear
* Cartilage problems
* Degeneration of joints
* Post operative mobilization
* Post trauma rehabilitation (ex: fracture)
* Post surgical rehabilitation
* Rheumatic conditions
* Sports Injuries


Neurological conditions:
* Stroke
* Head injury
* Multiple sclerosis
* Parkinson's disease
* Motor neuron disease
* GBS
* Spinal cord injury and diseases
* Nerve injuries

Heart and lung conditions :
* chronic bronchitis
* Emphysema
* Chronic obstructive airways disease
* Asthma
* Myocardial infarction(heart attack)
* Bye pass surgeries of heart
* Lung collapse
* Patients in ICU(Ex: artificial ventilation)
* Pre and Post operative cardiac care



Pediatric conditions:
* Poliomyelitis
* Developmental delay
* Muscular atrophy
* Clubfoot
* Cerebral palsy
* Hydrocephalus
* Muscular dystrophy
* Autism


Geriatrics conditions :
* Osteoporosis
* Arthritis
* Alzheimer's diseases
* Loss of balance
* Loss of co ordination



Woman's Health conditions:
* Antenatal & Postnatal Pregnancy Problem
* PCOD
* Over Weight

Services Provided :
* Ergonomic Advice
* Self Management Strategies
* Injury prevention
* Domiciliary Physiotherapy(Home care services)



Physiotherapy treatment includes…
Electrotherapy treatments :
* Interferential Therapy(IFT)
* Intermittent Cervical and Lumbar Traction(ICT & IPT)
* Transcutaneous Electrical Nerve stimulation(TENS)
* Ultrasound massage (UST)
* Muscle stimulation
* Laser therapy
* Short Wave Diathermy(SWD)
* Paraffin Wax Bath



Exercise therapy treatments
* Joint mobilization and soft tissue stretching
* Education in injury specific home exercises to encourage self management
* Instruction in gym programmers and stability training
* Postural correction and ergonomic advice for work stations
* Taping and bracing to protect joints and injured tissues
* Testing of joint function prior to returning to sports


The inpatient physiotherapists provide post operative care and exercise instruction, which includes the provision of illustrated exercise to patients who have undergone surgery in our hospital or day care surgery. Our physiotherapists work closely with the surgeons and nurses, to ensure a team approach in the days following surgery.
Photo Gallery