DIALYSIS
Established in the year 2003, the institute opened its operation with three dialysis units.

Subsequently it grew and the full fledged department of dialysis was opened on 2007 with state of art 12 dialysis machines and latest R O water treatment plant.
The department has facilities to handle all emergency and 24 hours ICU dialysis facilities.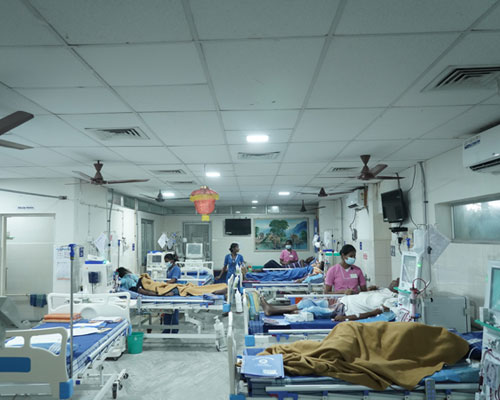 Hemodialysis peritoneal dialysis, Double filtration plasmapheresis and CVVHD and CAVHDS can be done. Immunoadsorbtion is alsodone at our unit.

Training and research are undergoing and volunteers come from other countires as observers to learn more about our Dialysis unit.All facilities for catheterisation AV fistula and all major surgeries can be undertaken in the connected theatre and ICU.

The haemodialysis unit is well supported by trained technologists under the guidance and direction of Nephrologist. The Dialysis unit has one of the best water treatment plants (RO plant). We take care to boost our patients' morale by maintaining a cheerful ambience in the dialysis unit.

Majority of our Dialysis patients avail CM Scheme Facility


Photo Gallery