CT SCAN
The CT Scan Centre at St. Thomas Hospital offers a 24/7 emergency setup with the best in technology and quality of radiology providing medical imaging diagnostics to the In-Patients including the Intensive Care Unit and the Emergency Room.

The Multi Slice Computed Tomography scanner from GE is the best in class which produces detailed images of any organ in a few seconds and provide exquisitely clear 3D images in an instant, enabling precise diagnosis.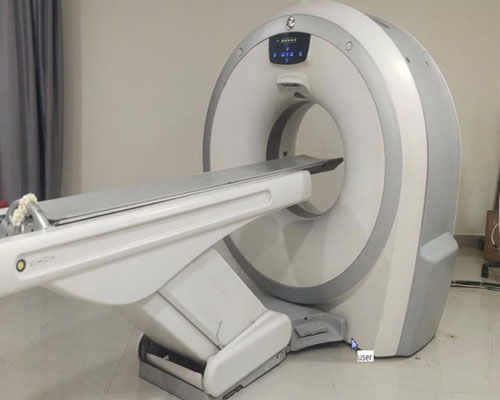 The CT scanner at St. Thomas Hospital also offers the highest possible quality with lowest radiation dose to the patient. As a joint effort between St. Thomas Hospital and Matrix Scans and Labs the entire array of investigations in Radiology are possible including but not limited to diagnosing head injuries, stroke patients, study of internal organs with specific concentration in regions such as the Abdomen and Chest allows Physicians to make prompt and concise diagnosis to aid in the swift treatment and rehabilitation of the Hospital's patients.
The Following are the Key Features of the Multi Slice CT Machine at St. Thomas Hospital:
*Increased Speed and Greater Clinical Flexibility*
With the Multi Slice CT, acquisitions are up to three times faster and utilize less dose than the conventional Multi Slice CT, making advanced applications possible to a wider range of patients. Clinicians now have the speed necessary to perform more aggressive scanning for CTA studies.

*Expand Your Productivity Capabilities*
Utilizing Design for Six Sigma methodologies, GE built a user interface that provides fast, accurate exams, as well as improves patient throughput and staff productivity. Multi Slice CT eliminates time intensive steps and extensive manual interaction with a unique user interface, built-in protocols and sophisticated post-processing capabilities. Automated software features, including auto film, auto archive, auto transfer and multiple prospective reconstructions, accommodate a single-technologist operation.
Help Address Information:
To help the public understand various medical conditions, nurses will promote general health by addressing information on health concerns through seminars and meetings.